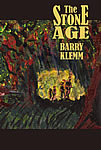 Shy, naïve nineteen year-old Griffin returns one night from the insurance office where he works to his parent's home in the suburbs where he still lives, to discover that he has been drafted. Against the odds, he survives induction into the army where fierce sergeants set about transforming him into their version of a man—without a great deal of success. But he learns what he needs to know pretty quickly once they land him as a combat soldier in the Vietnam war. Faced with the worst horrors of human conflict, Griffin transforms into the most fundamental of humans—hunter-killer—the quintessential example of the most dangerous predatory animal ever to walk this planet. And then, just as suddenly, his time is up and he is dumped back into civilised society and expected to cope. Unable to resume any part of his former comfortable, happy existence, he sets about trying to be someone else—without much luck—until he falls in with radical draft-dodger Lew Sigg. Painfully, Griffin undergoes a 180° turn and becomes an anti-war protestor, more or less, but it solves nothing. Finally Lew, on the run from the law, takes him on a journey that will finally bring him to terms with himself. Chapters 13 and 20-31 of this book were originally published under the title Running Dogs by Black Pepper publishing in 2000.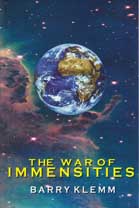 "I think the planet is in trouble and it's screaming out for help. I believe you are the first to hear the voice of Gaia ."
The Earth is shaking itself apart. Volcanic eruptions of escalating magnitude and frequency threaten to collapse the planet within two years. Norwegian-American Harley Thyssen, the aging enfant terrible of the Earth Sciences, heads up Project Earthshaker, aided by his volcano-chasing student Jami Shastri and seven innocent bystanders drafted because of their personal experience of the mysterious Shastri Effect.
Six of his team are all miraculous survivors of the first eruption in the series, sharing eight days in a New Zealand hospital in a strange coma apparently unrelated to their injuries They recover and return to their normal lives, but a few months later, they are drawn together again, to meet up in the middle of the Australian bush for no accountable reason, and realise that it is not a remarkable coincidence.
Kevin Wagner, American businessman, is sure a new, more advanced species of human has evolved and he is their logical leader;
Andromeda Starlight , second-rate entertainer from Trinidad, evolves into the very personification of the Goddess Gaia;
Brian Carrick , truck driver from Melbourne, whose simple Science Fiction approach to the effect allows him to explain the inexplicable to a desperate world;
Lorna Simmons , Irish born receptionist from Auckland, a passionate girl who believes the Shastri Effect is a higher expression of love, and so falls in love an entire planet and it with her;
Chrissie Rice , French-Vietnamese skier, knows it is the hand of God at work and threatens to become the first modern non-Catholic saint;
Joe Solomon was a trustworthy Greek Lawyer, until his belief that it is all a big government cover-up causes him to defraud the US taxpayers of millions of dollars to fund the project;
And with them, Dr Felicity Campbell, a humble GP from Wellington, who originally treated the six and has inadvertently become the world's leading expert on the Shastri Effect, if only because everyone else knows even less about it than she does.
Slowly they are drawn into Harley Thyssen's web, to become warriors in a battle against forces at the very limits of human comprehension. For if Thyssen is right, then there is a war raging throughout the cosmos that began with the birth of the universe and will continue until the end of time, and now it's humanity's turn to enter the conflict.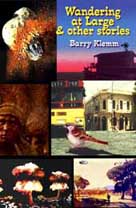 BRUNSWICK BUDGIE A fledgling receives flying lessons from an unlikely source
WANDERING AT LARGE An old man goes to court to defend his dog from the dogcatcher.

TRAVELS WITH THE WITCH A couple of tourists find themselves involved in a possible foreign intrigue.

DIRTY FINGERNAILS A combat soldier strives to come to terms with R&R in Bangkok.

PANIC MERCHANT
A taxi-driver must talk his passenger out of committing murder.

THE FLOOD Warrick faces the great Elizabeth Street flood.

SNAPPING DOGS A sexual encounter leads to a confrontation with two militant feminist dogs.

NOWHERE COMING BACK Simon inadvertently finds himself responsible for an entire outback community

SLAVES Commuters start becoming dangerously sane

STARFIRE The story of the man who was actually first in space

THE CULL An ordinary man must make the most dreadful decision in all human history.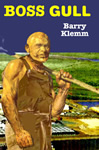 Way back in 1953, war veterans Frank Overton and Lyle Tynan manned the Moolanong garbage truck on its gruesome daily rounds of the fledgling suburb of Moolanong, a barren swampy place on the far outskirts of Melbourne. Over the next thirty-three years, as the suburb develops, the two men remain mates, linked by a tragic incident, and despite the fact that their lives follow very diverse courses. Frank Overton exploits every opportunity to rise in the local council ranks and, aided by a small inheritance, is able to use his position to pull off a land deal—buying up an enormous swamp for a song and then using council facilities to have it reclaimed and subdivided, propelling him into the world of the rich and powerful. He builds a huge suburban empire, still based on garbage disposal but now fully diversified into property, construction and hi tech, and reaching out for the media. But along the way Frank incurs many debts, often of the more troublesome non financial kind, and the day is coming when those debts will have to be repaid. Conversely, Big Lyle Tynan stays right where he is, boss of the yard at Moolanong Rubbish Tip. A huge man with giant muscles, no intellectual but not stupid either, Big Lyle watches as, over the years, society's need of his great physical strength diminishes through the increasing employment of machines until eventually it isn't needed at all. But when finally Frank blatantly replaces him with a machine, Big Lyle decides to stand and fight with devastating results. After more than three decades, the day of reckoning has come and the two men meet to fight it out to the finish. For now Lyle is an urban avenging angel and his campaign is causing Frank's whole empire to sink back into the swamp from which it first arose.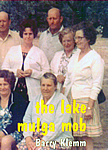 In a sleepy little wheat-belt town an old woman dies. Thus, once again, the Kragg mob descends from all points of the compass and the town of Lake Mulga braces itself. For there is always a lot of trouble when that mob hits town and this time will be no different. The Lake Mulga Mob is a comedy, but it is also a portrait of Australian working class lifeóa group portrait: The Kids, as the Old Woman's five daughters and three sons are still called and their assorted in-laws, children and grandchildren, are all cast in the same mould. And every one of them has the same propensity for walking straight intyo lifeís traps. These people are serious, the situation is serious, but everythingótheir own characters, the weather, insects and animals, other people, the children, inanimate objectsóconstantly conspire to ensure that if anything can go wrong it will. And this is firmly in line with the Kragg view of life; that whatever happens, happens, and that's that! The impression is that of a multiplex group, a mob of sheep, a like-minded and like-living mass of humanity, headed from nowhere to nowhere, stumbling through the chaos of continual misfortune as they pass along the way.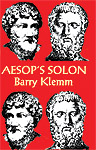 Aesop, the man with a fable to elucidate any situation, finds himself guarding the back of his friend Solon of Athens during the politically seminal year of 594BC, when the latter was foolish enough to get himself appointed Chief Archon of Athens in exceptionally complex and very dangerous circumstances. A free market economy has run through to its ultimate point with the entire population enslaved by the 400 members of the High Council of the Areopagus, resulting in a full scale peasant revolution, and the High Council have appointed Solon to make new laws to save them from their own suicidal profiteering and social excesses. Solon averts the crisis with a series of stunning reforms, establishing the basis of future Democratic governments with the invention of the bicameral parliamentary system and the first use of juries, not to mention certain radical economic innovations, which make him a lot of friends and a handful of exceedingly dangerous enemies. At the same time he must find a way to end a timeless blood feud, and learn to control his own susceptibility to the aphrodisiac effects of absolute power. Aesop's protective role is one to be performed with his tongue as his only weapon but that is well known to be sharper than any sword. In the end it is Aesop who must make Solon understand that in creating a system that will rid the world of tyrants, he has become one himself. But Solon's solution to that problem is the most startling of all...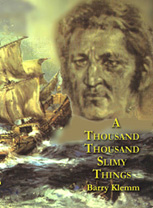 Roy Barton was a living legend out in Western Australia, a diver who discovered a sunken galleon complete with a vast treasure in gold ducats only to have the proceeds ripped off by the government, his lover and his friends. Now a movie is to be made about his life and Draper, a down and out writer, is commissioned by some shonky producers to prepare the film script, working directly with Barton. Day by day, Bartonís story unfolds to Draper. It is plain that the authorities have seriously abused their powers to separate the explorer from his treasure, twisting the law, fabricating false documents and backing it up with continual police harassment, but in the end High Court findings have vindicated Barton, and the government have been ordered to return the treasure. Instead, they have resorted to even more intense harassment. Along the way there are many tales of adventure to be told, a classic yarn of treacherous beautiful women, ruthless villains, of storms and sharks and tragedy; but the most amazing thing is that it is all true. Or is it? As the telling of the story of Bartonís life of triumph and betrayal proceeds, Draper begins to discover anomalies; the nuts and bolts of the tale just donít quite fit together the way they ought to. Draper begins to realise that Barton is a bitter man profoundly deranged by his experiences. He decides to search for the truth, uncertain whether Barton is an extraordinary charlatan, or a man so devastatingly wronged by government, lovers and friends that his mind has become twisted, both of which seem equally possible. He discovers plenty of evidence to support the basic story - court findings, newspaper articles, public records, eye-witnesses accounts - but still the contradictions grow. And not just in the story, but also in the narrator, who is rapidly losing his grip on reality. Troubling and violent scenes occur in which the Barton completely loses control and Draper realises that he is under police surveillance himself. Then Draperís inquiries in turn begin to feed back, effecting not only the direction of the screenplay but also exacerbating Bartonís condition until, in the end, the writer effectively tips his subject over the brink, and finds he has himself become Bartonís ultimate, and most disastrous, betrayer.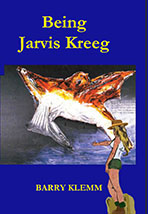 JARVIS KREEG- BEYOND THE GRAVE!
Three years after the death of England's greatest recent painter, new masterpieces by the errant genius are turning up all over the European art market, fetching staggering prices. The trail of investigation leads to Australia and a strange house on a remote beach, where the police find the artist has slipped through their fingers but left behind more of the brilliant fakes and his very bewildered girlfriend, Lena Carlson.
Lena, a fierce young woman who recently 'walked out on her own life and slammed the door in its face', does not take lightly to being left holding the bag.
Aided by a British Policeman, Roger Timmins, and the world's greatest authority on Jarvis Kreeg, Quentin Harcourt, Lena sets out to get to the bottom of the mystery. Did Kreeg fake his own death and was her lover, Jack Daniels, in fact the great man himself, or is he a murderer who in some extra-ordinary way took over another man's life and work? It becomes a question of identity—just what are the factors that make a man who and what he is, and how do we perceive them? Resolving the question one way or the other proves to be a more difficult task than logic suggests, and all the more so when Lena begins to realise that she has become involved in a deeper and stranger mystery than any of them suspected. For every time she reckons she's figured it out, new evidence pulls her latest theory out from under her feet.
Lena, in fact, is the bait in a trap that grows more complex as the mystery deepens, heading towards a confrontation not only between Lena and the mysterious man she loves—who somehow she just can't stop herself from continually betraying—but also a clash between one man's reality and his imagined self.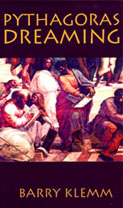 Pythagoras lies dying at the end of his long and magnificent life. Part genius, part mystic, he has devoted himself to defining the perfect cosmic system he created, the great unity of numbers and mathematics and the universe. But suddenly, it has all gone horribly wrong—a terrifying secret has arisen within the Brotherhood of his loyal followers, and murders are committed to protect it.
Tormented by memories and nightmares alike, ravaged by the Furies, by turns vague and lucid, Pythagoras refuses to face the fact that the utopian society that he has created is coming apart at the seams.
As Milo of Corinth, his protector, put it: "Pythagoras dreamed this perfect society into existence, and now he is dreaming it out of existence again."
In Croton, the fabulous city that has prospered remarkably under the guiding hand of the Pythagoreans, the people rise in the streets, intent on driving the Brotherhood into the sea. For not even the great wealth and glorious social harmony of a place where men and women are regarded as equals and everyone benefited equally from the Pythagorean innovations is worth the terror struck into the hearts of the populous by the Unspeakable secret and the vengeance of the raging Furies.
Milo, three time Olympic champion, stands like a colossus between the forces of chaos and the great and wonderful dream of Pythagoras, but even he—the most loyal of all—knows that the disaster descending upon them is the direct result of the genius of Pythagoras run out of control and turned to madness.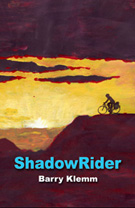 SHADOWRIDER
Fourteen year old Lee Parsons escapes from an English Boarding School in Kent, steals a pushbike and rides down to Dover, and from there decides to keep right on going, all the way home to Australia. It isn't really England nor the school that he is fleeing but his brutal, selfish father Trevor who these days is a very successful television interviewer. In Australia, his best friend, Scott Hagen, with whom Lee once shared great adventures, is waiting. Unlike Lee, Scott has only his vivid imagination with which to combat the austerity of the bland Melbourne outer suburb in which they were raised.
Viewing the world entirely in terms of movies and television, Lee and Scott seemed inseparable until Trevor's pernicious habit of beating Lee's mother Fable - a drunken consequence of his then failing Australian media career - finally forced a divorce and custody battle that the foolish and hapless Fable managed stupidly to lose. Since then Trevor's career has blossomed in England, while Fable has been on the downward spiral, culminating in a suicide attempt which might have succeeded had it not been for Scott's audacious intervention.
It is a letter from Scott relating this incident that propels Lee on his desperate journey, to ride halfway across the world with no money and no passport, relentlessly crossing three continents of human insanity. Yet for all the madness, there are also good people, willing to make commitments to help him along the way. Many strange and wonderful characters are met and amazing adventures shared, but always somewhere back there is the coldly manipulative Trevor, who knows how to turn something like this into a major media event and exploit himself to great effect as the distraught misunderstood father searching for his lost son. As Lee fights his way onward and steadily turns his mad dream into reality, Scott also fights battles on two fronts: trying to keep the fretting Fable intact until Lee can arrive, and striving to keep the media and authorities at bay and prevent them from turning Lee's mighty achievement into just another banal human interest media circus as they have the rest of the world and everything in it.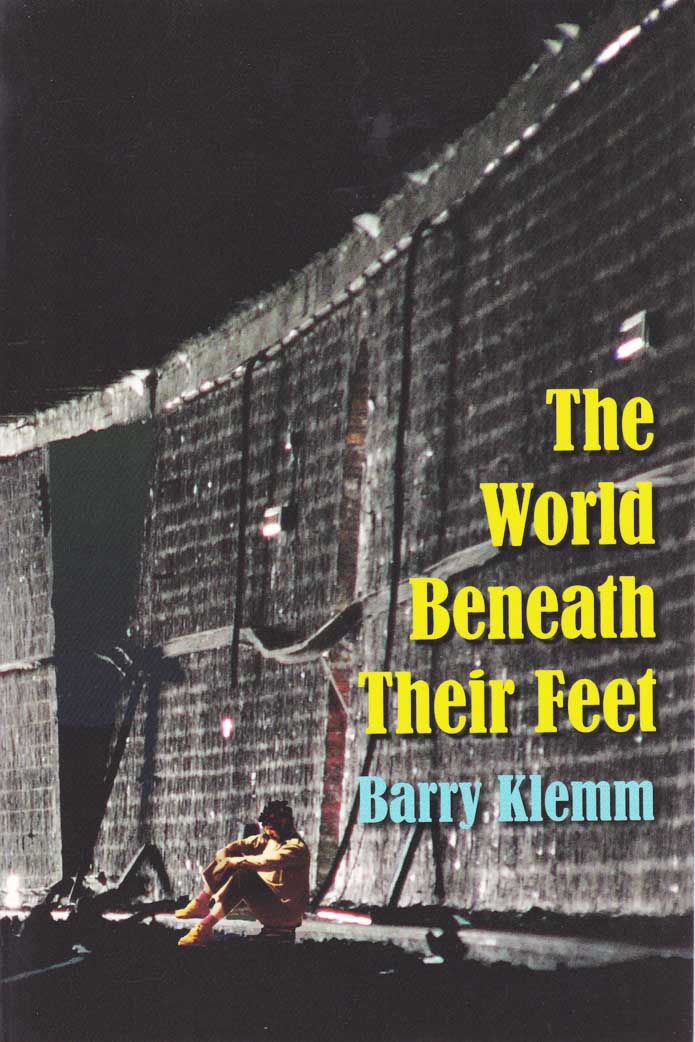 England and Australia met to fight out a historic test match before a huge rampant crowd, a frightening, insatiable monster with 80,000 mouths and unbridled passionate power that keeps in the dungeons below the grandstands a contingent of slaves who must attend its every need - the players, administrators, police and the staff of The Ground. For the thundering horde creates continual chaos over the five days of the test match, and a small team works tirelessly to keep the madness within manageable bounds. We focus on Einstein, a clever young urban aborigine upon whose slim shoulders the responsibility for the upkeep of the stadium will increasingly fall. The laws of the game are those of time-honoured traditions and national honour, but Einstein could not care less about the battle between the colonials and their masters taking place on the arena for the traditions and honour at stake are not his. Yet still, by devotion to his boss Harry Forth, by his mismatched affair with the PR girl Camellia Musgrove, and by the all-pervading notion that the show must go on, he is drawn deeper and deeper into the vortex. In the middle of it all, Harry collapses and Einstein must take control. Without Harry, the fabric that holds it all together begins to unravel, and only Einstein can prevent everything from total collapse. To do so, he must become pseudo-Harry, playing by Harry's iron-will rules. Everyone turns against him because those rules say that everyone must, and even the woman who loves him must betray him, because that too is all part of the game. Resolute Einstein hangs on, and wins through in the end, though only with the help of the unexpected emergence of a great hero just when he is needed most, and the unwitting aid of a rabbit in a cage that is a long way from home.